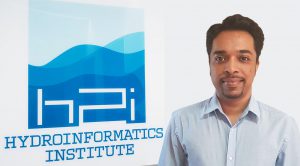 We warmly welcome Anoop Jayaram as Senior GIS Developer to Hydroinformatics Institute (H2I). 
Anoop graduated in Computer Science Engineering and well experienced in working in application development projects in Singapore and India since 2008 in the domain of Geographic Information Systems applications.
He has 10+ years of experience in the Geographical Information Systems application development, Spatial Analysis and Spatial Database management. His key expertise with Geographical Information Systems software includes: ESRI product suites, Bentley Map, et QGIS, ArcGIS APIs, Oracle Spatial, etc.
He has been working in Singapore since 2012 for various government projects for GIS application development and support. 
Prior to joining H2i he had worked for companies : DXC Technologies, NCS Singapore, ESRI India.