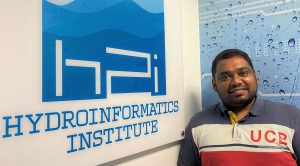 We warmly welcome Saravana Prakash Parameswaran as Software Development Manager to Hydroinformatics Institute (H2I).
After graduating from NUS, Saravana started as a software engineer in a French MNC, Thales Solutions Asia Pte Ltd. Moved up the ladder to a senior software engineer and now, software engineering manager. He worked on command and control projects around the world.
With more than 10 years experience in software design, architecture, coding and managing a team. Saravana is also passionate about software design and architecture.
He is interested in learning new technology and using both my leadership skills and technical knowledge to lead a great team.